WestCord WTC Leeuwarden
WestCord WTC Hotel Leeuwarden is ideally located on the highways and near the historic center of Leeuwarden. The hotel has luxurious and comfortable designer rooms, including spacious apartments and a beautiful bridal suite. Some rooms have a connecting door and are therefore very suitable for families. In addition, as a guest you are guaranteed free parking next to the hotel. WestCord WTC Hotel Leeuwarden is the biggest congress location in Friesland.  The 14 modern meeting rooms, including room New York (700 pax), the impressive lobby,  several bars and restaurant facilities, make this location ideal for hosting (business)events, conferences, seminars, meetings and other wishes.
Sleep well yn Ljouwert...
Rooms of WTC Hotel Leeuwarden
WTC Hotel Leeuwarden has hotel rooms. In addition to the standard hotel rooms, suites and long-stay apartments are also available. Many rooms have a connecting door and are therefore very suitable for families. The hotel rooms are equipped with all facilities that one can expect from a four-star hotel such as air conditioning, free wifi, espresso machine, kettle, safe and a laptop connection. The bathroom has a rain shower or a bathtub with a separate shower.
Hotel features
15 reasons to choose WTC Hotel Leeuwarden! Let the chef surprise you with original, creative dishes at Restaurant élevé! Within a 15 minute-walk you are in the historical center of Leeuwarden. There is a parking lot next to WTC Hotel Leeuwarden, where you can park as a guest for free!
Hotel
Spacious and design rooms
Highest restaurant in town, litterally
More of WTC
Largest meeting location in Friesland
More of WTC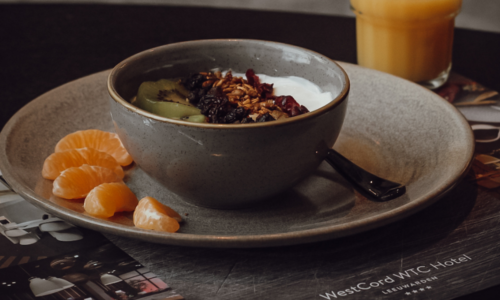 Café Zero
After a relaxing night's sleep in the hotel, the smell of coffee beans and freshly baked croissants welcome you in the morning. Downstairs in Café Zero, a delicious extensive breakfast buffet is waiting for you. You can enjoy various types of bread and spreads, fresh eggs, fruit, yogurt and cereals. Our breakfast chef often gives it a creative twist with something surprising. Grab a fresh juice, cup of coffee and/or tea for a perfect and rested start to the day!
Meeting rooms
Largest congress location in Friesland
WTC Hotel Leeuwarden on the map