Skybar
The Skybar on the 11th floor is a fantastic place to enjoy the unprecedented view with friends or colleagues. In addition to the sensational panorama, the Skybar offers a wide variety of (sparkling) wines and a versatile cocktail menu. Of course, the classics are served here for you, but also specials such as the Stargazer. A wide selection of gin and tonics is also available!
Cocktails and a sensational panoramic view
Breakfast, lunch and dinner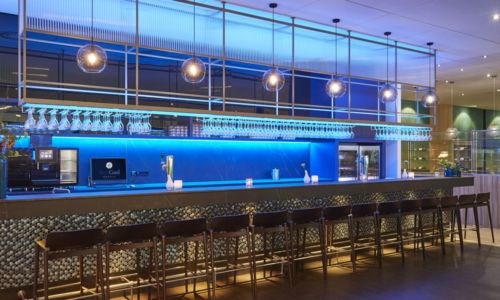 Café zero
Café zero is located, as the name suggests, on the ground floor of WTC Hotel Leeuwarden. At cafe zero you are at the right place for breakfast, but it is also the perfect base for a cup of coffee with cakes from Blooming Bakery.
Cafe zero opening hours
Monday through Friday from 07:00 AM to 03:00 PM
Saturday and Sunday from 08:00 AM to 03:00 PM
Contact
Skybar
(in WTC Hotel Leeuwarden)
Heliconweg 32
8914 AT Leeuwarden
058-2334900
Opening hours Skybar
Monday until sunday 12:00 AM – 12:00 PM