Important information
Please pay attention!
The municipality is currently working on road works on Nieuwezijds Voorburgwal, the street in front of the hotel. This may affects you in reaching the hotel. Plan your trip well in advance via 9292.nl or via navigation to avoid inconvenience.
There is also a temporary entrance on the Spuistraat 25. You can ring the bell here for the staff to open the door.
By far the easiest way to get to us!
Public Transport
We are in the heart of Amsterdam. From Schiphol Airport there are four direct 15-minute train services to Amsterdam Central Station. From the Station it is only 5 minutes walking to the hotel.
Additionally trams 2, 12, 13 and 17 stop in front of the door, all just one stop from Central Station to the hotel. These trams also bring you throughout the city of Amsterdam.
The closest stop for metro line 52 (Nord-South line) is at Central Station, which brings you to RAI Amsterdam Convention Center in 15 minutes.
At the hotel reception we sell day tickets for public transport. We are happy to assist you with your itinerary!
Directions City Centre Hotel Amsterdam
By car
When arriving by car it is of great importance to enter the city by taking the correct exit. From ring road A10 follow signs for 'S102 Transformatorweg' (exit S102). At the end of the exit, take a right and follow 'S101/S100 Centrum'. At Central Station (railway station) turn right onto 'Droogbak'. At the next traffic lights turn left onto 'Prins Hendrikkade'. From here it depends on which garage you made reservations for:
Q-Park Nieuwendijk (opposite our hotel): turn right at traffic lights onto 'Martelaarsgracht' (do nót take the U-Turn), keep left at the fork and stay on 'Nieuwezijds Voorburgwal' for about 250 meters (275 yards). Here you will find Q-Park 'Parkeergarage Nieuwendijk'. Your license plate will be recognized at the entry and you can drive in easily.
Q-Park Amsterdam Centraal: follow the U-Turn on Prins Hendrikkade and immediately take the Q-Park entrance on your right at the end of the U-turn. Also here your license plate will be recognized for easy entry.
Maximum height of cars is 1.90 meter. Charging facilities for electric vehicles are available.
Please note: parking in Amsterdam can be expensive, however there are cheaper alternatives. view options here.
Taxi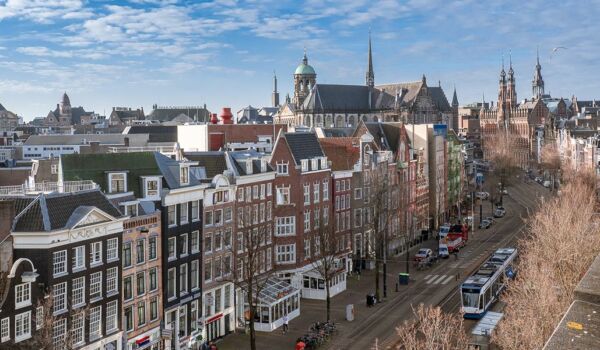 Taxi
Do you want to book a taxi from Schiphol in advance? Book a taxi from AMS Holland affordable and easy.
Book your taxi
To Beurs van Berlage
The route from WestCord City Centre Hotel to Beurs van Berlage is only 6 minutes on foot. Walk straight from the hotel, cross Nieuwezijds Voorburgwal and Nieuwendijk to reach Damrak. There you will find the beautiful Beurs building right in front of you.
To RAI Amsterdam Convention Centre
The easiest and fastest method to reach RAI Amsterdam Convention Center from WestCord City Centre Hotel is to take public transport. First, walk 5 minutes to Central Station and from there you take metro 52 (North-South line) towards Zuid (South) and exit at the Europaplein stop (12 minute journey). The total travel time is approx. 30 minutes from door to door.
A taxi can to take you to RAI Amsterdam in about 20 minutes.
Travel time by car is about 45 minutes, you first need to go back to the Ring A10 (without busy traffic this takes about 20 minutes and from there exit Ring A10 at exit S109 (RAI). From the exit follow signs for P-route to park. Travel time door to door is approx. 45 minutes.
Address
WestCord City Centre Hotel Amsterdam
Nieuwezijds Voorburgwal 50
1012 SC Amsterdam