Route description Strandhotel Seeduyn
You walk through the Dorpsstraat, turn right at the educational center "De Noordwester", over the Kerkplein, between "Het Armhuys" and the church, straight on the Badweg through the woods to the beach. In about 25 minutes you are at Strandhotel Seeduyn.
Strandhotel Seeduyn
Luggage & bicycles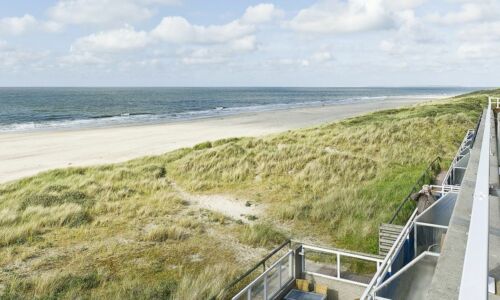 Luggage transport
Don't want to carry your luggage yourself? Leave the luggage at one of the carts of luggage transport company Zeelen before departure (recognizable by the yellow color with 'Strandhotel Seeduyn' on it). No cart ready in Harlingen? Then drop off your luggage at one of the carts upon arrival at Vlieland. The luggage will then be brought to Strandhotel Seeduyn for free. This also applies for the way back! For more information and luggage labels you can go to the reception of Strandhotel Seeduyn. Transporting luggage is at your own risk. We recommend that you do not place expensive and/or fragile pieces of luggage on the luggage trolleys.
Transportation on Vlieland
Bus

The bus is at the ferry dam on arrival of the boat. As a WestCord Hotels guest, you can use the bus for free on presentation of your confirmation. Also during your further stay (on presentation of your guest pass). Please note: this is a scheduled bus, so it runs at set times.

Taxi

Taxis are located near the public buses at the ferry dam. Taxis cannot be reserved in advance. Within 5 minutes you are at the hotel. TCR Vlieland: 0562-451222 or Taxi Langeloo: 06-52711722.